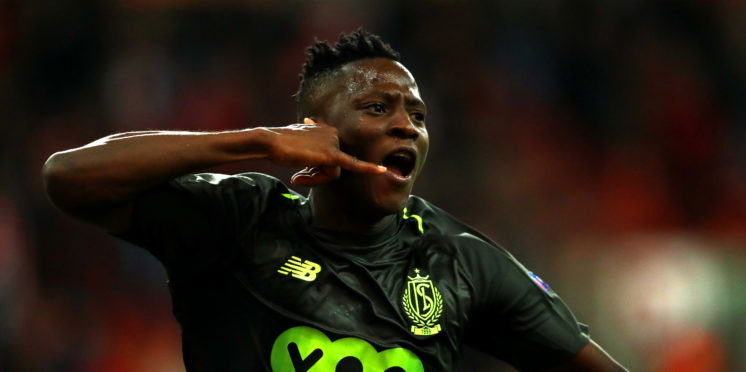 What to expect from new Southampton winger Moussa Djenepo
Southampton have wrapped up their first summer signing this week, recruiting Moussa Djenepo from Standard Liege.
The Mali international joins in a deal believed to be worth £14 million and puts pen to paper on a four-year contract at St Mary's Stadium, making him the club's first ever player from the African country.
Twitter: #SaintsFC is delighted to announce it has reached an agreement to sign @MoussaDjenepo2 from @Standard_RSCL: https://t.co/mq3hrXb1GN (@SouthamptonFC)
Djenepo will be keen to impress for his national team later on this month when they begin their Africa Cup of Nations campaign.
The 20-year-old enjoyed an impressive season and emerged as one of the Jupiler Pro League's most exciting attacking talents.
While the player may not yet be a household name, I have delved deeper and assessed Djenepo by analysing his performances throughout last season, observing the key statistics behind his displays, and also speaking to an expert of Standard Liege.
Let's get to know Southampton's first signing under Ralph Hasenhuttl.
---
Background
Djenepo first caught the eye of European clubs during his time at Yeelen Olympique, a footballing youth academy based in his homeland of Mali. Standard secured his services on loan in January 2017 until the end of the ongoing season.
After impressing during his brief stint in Belgium, the club recruited him permanently for €50,000.
In 2017/18, Djenepo did not play a starring role for Standard, making only 10 appearances in the Jupiler Pro League. He did, however, net his first ever goal in senior football with a strike against KV Oostende, helping his team secure a 3-2 victory.
The recently-concluded season proved to be the making of Djenepo. He was a key man for Michel Preud'homme's side and provided the manager with a welcome selection headache, as he juggled his dynamic winger with Paul-Jose Mpoku, Maxime Lestienne and Medhi Carcela-Gonzalez.
Instagram: https://www.instagram.com/p/Bx78GJ8iejS/
Djenepo amassed 11 goals in all competitions last term, contributing with a further six assists. His potential was becoming clear, and towards the end of 2018, he was nominated for the Golden Boy award, featuring on a 40-man shortlist comprised of the best footballing talents in Europe under the age of 21. Highly sought-after Ajax captain Matthijs de Ligt won the accolade.
Such form earned Djenepo a place in Mohamed Magassouba's squad for Mali's 2019 Africa Cup of Nations campaign in Egypt this summer.
Style of play
Djenepo operates on the left wing and likes to carry the ball from deep areas. His style revolves around bypassing opponents' challenges and creating opportunities for both himself and his teammates in the final third.
He attempts to trick defenders with body feints and rapid changes of direction, and his quick feet often draw fouls. Standard won three penalties courtesy of the 20-year-old last season, and this owed to his ability to disorient defenders.
The Belgian club fell short to eventual semi-finalists Ajax in the Champions League qualifying stages last season, but Djenepo won them a penalty in the home leg, which finished 2-2. He came off the bench and, after gaining possession on the left, pushed the ball slightly away with his right foot before springing away on his left, driving along the by-line before being scythed down. He gave Noussair Mazraoui – one of the world's most promising right-backs – an extremely challenging game upon his introduction.
Another instance in which Djenepo earned his team a penalty was in Standard's 2-0 win over RSC Anderlecht. In a big game near the top of the table, he threatened throughout. The winger picked up the ball in the left half-space while inside the box, and although it appeared as though he had taken too long distribute the ball, his nimble feet helped him to shield the ball and subsequently lure a clumsy challenge from Kara Mbodji in the area, winning his team a penalty via a VAR decision.
Djenepo is physically gifted. He is extremely fast and turns his body quickly, helping him to evade tackles or draw fouls – he won 70 in league fixtures last season, with 24 coming in the final third of the pitch. While the Malian is not especially strong, his balance is excellent, and this allows him to keep close control of the ball.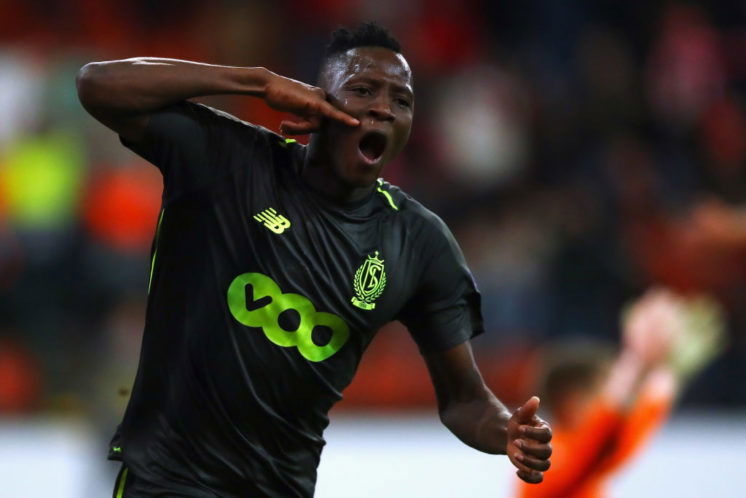 This was demonstrated in Standard's 1-0 win over Sevilla in the Europa League group stages. With six of the Spanish side's players around him, he was able to intelligently select a pass before bursting into space in behind to receive the one-two. Despite losing his footing slightly, Djenepo readjusted himself and stayed upright, slotting the ball underneath the goalkeeper with composure. It is common to see young players buckle under pressure when their stride is halted, but the winger showed exceptional focus to prevent this from happening.
Another example came in a 1-1 away draw at Royal Antwerp. Djenepo trapped the ball superbly, and after appearing to lose his balance somewhat, he was able to swivel and get a shot away on the half-turn. It did not result in a goal, but the winger was able to offer himself the best possible chance of creating something for his side despite being under the pressure of the opposition defenders.
In contrast to this regular show of composure, however, the youngster has proven to be, at times, erratic in front of goal. In the aforementioned win over Sevilla, Djenepo's goal was the hardest of his three key chances in the match. On two occasions, he failed to hit the back of the net after sprinting clear of defenders to connect with a cross; with the goal gaping, he lost his head and was wasteful. He terrorised the La Liga giants, but should have been far more productive – it was a paradoxical game on an individual level for the player.
Djenepo can be commonly seen driving forward with the ball on the left, drifting infield when his full-back is pushed up high and wide alongside him, or maintaining his position on the flank when there is an opportunity to commit defenders in tight spaces. This is when the winger aims to hit the by-line to either draw challenges or play low crosses to onrushing attackers.
Instagram: https://www.instagram.com/p/BvolePRBa3N/
He did similar in a Jupiler Pro League fixture against KSC Lokeren. Standard went 1-0 up and Djenepo had the chance to seal the three points early, but after making a superb blind-side run, he blazed the ball high over the bar. Fortunately, he was not forced to rue his lack of concentration, as Preud'homme's men came away with a 3-0 win.
The 20-year-old relishes taking defenders on, and this was evidenced by his 2.64 average dribbles per game in Jupiler Pro League and Europa League fixtures combined last season. He favours stepovers to confuse his markers and push into space, but this trait can become predictable in one-on-one scenarios; he completed 61 of his attempted 113 dribbles in league fixtures in 2018/19, and how he will fare against defenders of higher quality remains to be seen.
Goalscoring patterns
Djenepo found the back of the net on 11 occasions last season and provided Standard with a clear goal threat. He operated somewhat as an inside forward when he found himself in goalscoring positions, occupying half-spaces and central zones at times.
Just one of his goals in 18/19 came from outside of the box, with 10 coming typically after he found space in tight areas between opponents' defensive lines. He favoured low shots to beat goalkeepers, and all but one of his strikes came from open play.
Djenepo displayed his capacity to work on both feet in the final third. He regularly used his weaker left to create space for himself and was also capable of scoring on his less effective side, with two to his name, in comparison to the eight he scored on his right and the sole header he netted.
Always on the move and energetic in the final third, Djenepo created an average of 1.35 chances per Jupiler Pro League game – a total he will undoubtedly look to build upon at Southampton. He did not always provide killer passes or perfectly execute crosses into the box, but he did display signs of intelligence in the final third.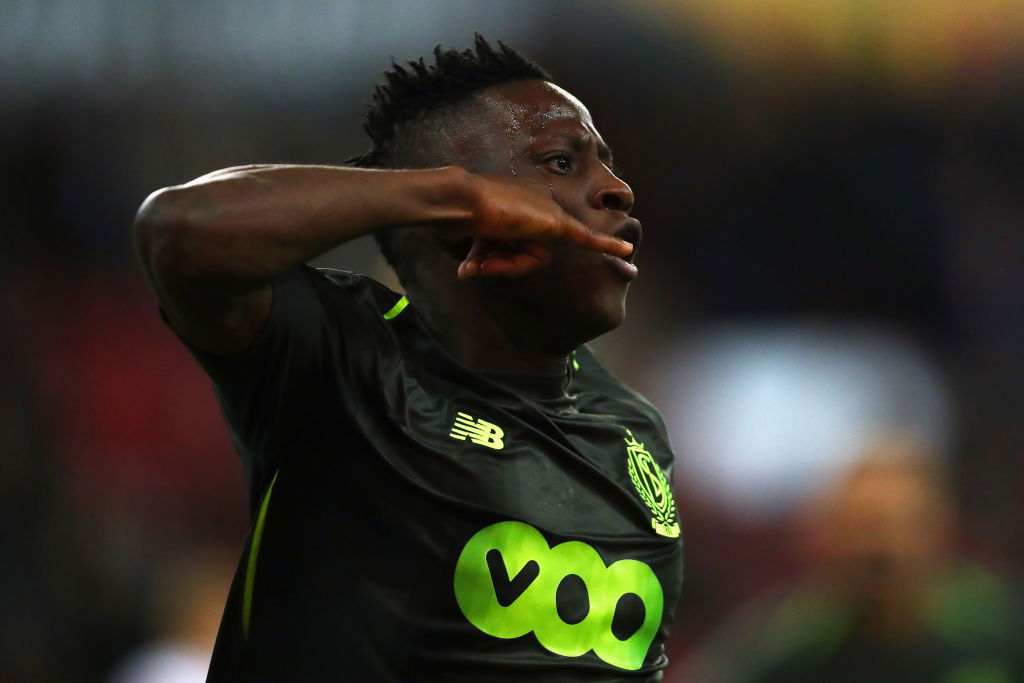 Albeit inconsistent, Djenepo's pass selection has improved in the past season. His innovative, industrious performance in a 3-1 win over Royal Antwerp was arguably his most impressive of the season. He acted on instinct to delicately backheel the ball into the net for a goal of his own before assisting Luis Pedro Cavanda in fine fashion, quickly moving beyond his marker to then get his head up and cushion a low cross beyond flailing defenders as Standard took the lead.
Something that must be carried over into his new ventures is his propensity to find good positions in the area before shooting. He averaged a combined 1.42 shots from inside the 18-yard box in Jupiler Pro League and Europa League fixtures in 18/19.
What has become apparent in Djenepo's game is that his influence appears to fade in the latter stages of matches. Of his 11 goals last season in all competitions, he failed to score once in the final 15 minutes; much of this owed to the fact that he was taken off on 14 occasions from his 24 starts in the top flight of Belgian football. His most fruitful periods in front of goal came in the 15 minutes before and after half-time, with six of his 11 coming in these particular time slots.
Expert's view
Bob Faesen, the Standard Liege pundit for Het Belang van Limburg, spoke to me about how he sees Djenepo settling in and what Saints fans can be excited about.
What must Djenepo improve upon to succeed in the Premier League?
I would say consistency. You can see him as a bit of an unpolished diamond. Maybe one more year in Belgium wouldn't have been bad for him, but he really improved a lot [last season] – maybe he can surprise again.
I would say you can use him in a counter-attacking formation and in an attacking formation as well since he's fast, but also a good dribbler and pretty calm in front of goal. He even played a couple of games as a wing-back in a 5-3-2 system.
But he lacks consistency, even though his potential is clear. At the start of last season, he made quite a clumsy impression; as if he was too enthusiastic, but you could see he had something. He came from an African team without any real tactical education, so Standard worked with him on that. For example, he took some stupid yellow cards early on.
What is it about Djenepo that should excite Southampton fans the most?
His dribbles. Last summer, Edmilson Junior left and Djenepo began to get more playing time from the new coach Preud'homme. You could see his dribbles were getting more effective – sometimes the ball is glued to his feet!
He would often surprise you with his dribbles: for example, his dribble against Ajax in the Champions League qualification stage which resulted in a penalty.
Plus, he's pretty effective and very fast. He is your typical right-footed winger on the left flank. Sometimes he lacks the ability to see teammates in the box, though.
I would like to thank Bob for taking the time out to answer my questions on Djenepo. You can find him on Twitter at @bfaesen.
How will he fit in?
Djenepo has enjoyed his best games as a left winger, and it is likely that this is the type of role that he will occupy at Southampton. Ralph Hasenhuttl could deploy his favoured 4-2-2-2 shape at the club next season, and this, in turn, could see some positional rotation.
Nathan Redmond was excellent centrally last term and could take a permanent role up top alongside either Danny Ings, Shane Long or a new forward.
Hasenhuttl utilised a 5-3-2 shape predominantly during his first half-season at Southampton, thereby negating the need for natural wingers. However, while attacking midfielders were commonly deployed as the two flanking players in his 4-2-2-2 at RB Leipzig, natural wide players are also suitable as long as they are tactically flexible and capable of narrowing their position when necessary.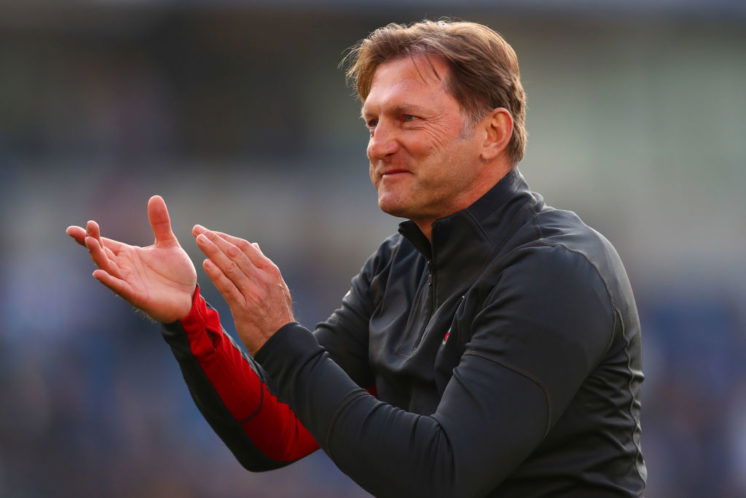 Djenepo is likely to be a preferred option for the manager given his dynamism, direct running and ability to influence matches in transition. Nevertheless, a period of adaptation will undoubtedly be required, with the step up from Belgian football to the Premier League being immeasurably large.
Something that the Mali international will also need to work on is how he presses. He won possession 19 times in the final third during Jupiler Pro League fixtures last season, with 14 interceptions to his name overall. With Southampton's style demanding that players retrieve the ball high up the pitch, Djenepo will need to be more tenacious and decisive when hassling defenders.
Hasenhuttl is a patient manager and relishes working with this style of player. He will take time to adjust, but Djenepo has displayed enough potential to warrant the reported £14 million fee, and Southampton fans should harbour cautious optimism as they anticipate watching the club's new winger.
---